Frequently Asked Questions
Frequently Asked Questions
ANY QUESTIONS?
Most answers can be found here in the FAQ section. We provide information on the following topics:
Still have questions? Use the CONTACT FORM below and we will contact you.
160th CAREER OPPORTUNITIES
Great question with many answers. In person, you can attend a 160th Career Opportunities Briefing event. Or locate the SORB recruiting office at your installation and talk with an experienced 160th recruiter. Online you can visit our website or one of our social media platforms.
Hosted by your local SORB team and Night Stalkers from the 160th, the 160th Career Opportunities Briefing is a high-level overview of the organization, mission, culture, service, and life in special operations aviation. Following the briefing, you will have an opportunity to ask questions and meet the recruiting team. Look for our flyers and follow us on social media for event dates, times, and locations.
We visit most installations once or twice a year. You will find upcoming briefing events on our website and social media platforms. While attending a briefing is a great way to get the answers you need, it is not the only way. You can always meet with your local and experienced 160th special operations aviation recruiters at your installation. Locations and contact information are listed on the website.
Yes. We welcome and encourage spouses to attend. Joining Special Operations is a big commitment and there can be lots of questions that are best answered in person. If your spouse cannot attend a briefing, please talk to your recruiter and we will connect your spouse with someone who can provide answers to their questions.
Yes, if you are stationed at an installation with a Special Operations Recruiting Battalion (SORB) recruiting station attached. The SORB team supports numerous CONUS/OCONUS installations. There you can meet with a Night Stalker to discuss service in special operations aviation.
Locations and contact information are listed on the website.
Funded Family Programs provide resources to help spouses integrate into the Night Stalker lifestyle, and provide no-cost opportunities to connect them with other unit Families. These training events, experiences, and connections can help spouses develop skills and build relationships for support and personal growth in a dynamic and sometimes unpredictable world.
RECRUITMENT TEAM
Recruiting qualified and highly capable Soldiers is essential to our mission. People are our most important asset, and through our recruiters, we can reach out and provide a clear and accurate vision of service in the 160th. Investing in our recruitment program is a way to inform and educate those looking for a long and stable career in special operations aviation.
Yes. 160th uses both Unit recruiters and Special Operations Recruiting Battalion (SORB) recruiters. Both are excellent sources of information on service and the process of becoming a Night Stalker. They are where you are to provide information and assist with the application/selection process.
Located at numerous CONUS and OCONUS installations, the Special Operations Recruiting Battalion are small recruitment teams of special operations Soldiers and subject matter experts. At the SORB office, you will find an experienced 160th recruiter able to provide you with the information you need to achieve your career goals in special operations aviation.
There are several ways to meet with a 160th special operations recruiter. The first and simplest is to go to one of our many installation special operations recruiting offices. There you can sit down one-on-one with an experienced 160th recruiter. If there is not a recruiter station at your installation, we are available by calling our main office or emailing the team.
Locations and contact information are listed on the website.
Yes. We carefully select our 160th Unit and SORB recruiting teams for their ability to communicate both service and life in the 160th. They are your best source of information. Ask for a 160th recruiter, and let them tell you about their career and what it is like to be a Night Stalker.
SERVING IN THE 160TH
Retention is a key to our success; turnover is not. You will be part of this organization until you decide to leave or are promoted beyond your MOS's rank structure. Your recruiter can help you map out the slots supporting your MOS career path.
Yes, Secret Clearance or higher is required for service in 160th.
EXCELLENT PHYSICAL CONDITION (NO PERMANENT PROFILE).
Come prepared. All Night Stalkers must be mentally, physically, and financially fit. A significant component of the selection and training process covers these pillars. Maintaining these three pillars is critical to your service in the 160th. While we have excellent programs and support staff to assist you in maintaining your fitness level, it remains an individual responsibility.
Night Stalkers are stationed at one of our three installations: Fort Campbell, KY, Joint Base Lewis-McCord, WA, or Hunter Army Airfield, GA. Be sure to discuss your preference with your 160th recruiter.
Based on your MOS, you will serve in one of our four battalions: 1st and 2nd Battalion located at Fort Campbell, KY, 3rd Battalion at Hunter Army Airfield, GA., or 4th Battalion at Joint Base Lewis-McCord, WA.
Possibly. Depending on your MOS and career goals, you may request a PCS move from one Battalion to another. Additionally, you may be offered career and job opportunities throughout the command requiring a PCS.
Yes. Working in your MOS is critical to our mission. This is why you were selected and why we invest heavily in your training and mentoring. Our goal is for you to be one of the very best in your field.
There is not a typical deployment cycle; duration is based on the operational assignment. For sustained operations, the 160th historically maintains a 30, 60, or 90 day rotation with an appropriate dwell time in between.
Yes. TDY orders are the typical travel status of all Night Stalkers deployed for training and schools. We train and provide customer support in a variety of CONUS and OCONUS locations. We think you will be amazed at where we train, our focus on the quality of life while TDY, the mission focus, and the uniqueness of these training opportunities.
For most 160th MOS positions, frequent short-term TDY is normal. TDY orders routinely include authorized reimbursement for housing, meals, and incidentals. Typically, military field environments for training are uncommon. In either case, most temporary duty is short term lasting one to two weeks.
PCS is not based on the duration of your 160th assignment. Many Night Stalkers enjoy an entire career without ever leaving. However, You may request a PCS from one Battalion to another or PCS based on your career objectives, schooling, or promotion.
The basics of your MOS will not change; however, this is where the similarities end. You can expect your duties to be more mission-focused and critical to the unit's success. Your duties, assignments, and challenges in Special Operations will allow you to advance your skills to the next level very quickly.
Yes, 160th is an airborne unit. We have paid jump slots for a number of positions. Even if you are not in a designated airborne slot, you may request airborne school.
Based on your MOS and duty position, you may receive Special Duty (SD) pay. SD pay is based on your MOS, position, and years of special operations service.
Yes. You will need to attend all Army rank and MOS career development courses. Based on your MOS, you may attend military and civilian courses that will help make you better in your career field and as a Soldier in the 160th.
No. You will have the same promotion opportunities offered by your branch. Through active talent management, our leadership assists in keeping you highly competitive for promotion.
Possibly. Based on your MOS, there are many advanced school opportunities. You may attend schooling offered by the Army or other DOD agencies, commercial industry, or one of the many programs of instruction in the Special Operations Aviation Training Battalion.
Yes. Advancing your civilian and technical education is highly encouraged. Many opportunities and resources are available to all Night Stalkers wanting to pursue a degree or advanced ratings.
Yes. Provided you are qualified or in qualification for one of our listed MOS's and agree to attend Enlisted Combat Skills (Green Platoon). Note: If you do not complete Enlisted Combat Skills you will be assigned based on the needs of the Army.
"Trust is the currency of Special Operations" -Admiral William McRaven. If you appreciate being trusted to do your job, enjoy interacting with competent people who want to work, and want to serve in an organization that is entrusted with some of the nation's most difficult and important missions, then Special Operations Aviation is right for you.
There is no clear answer to this question. Yes, we are always looking for experience, but it is not the only factor. If you are MOS qualified or getting qualified in one of our listed MOS's, contact a recruiter and discuss your opportunities. Do not disqualify yourself for lack of experience.
Yes. MOS's are listed on the website under the Officer, Warrant Officer, and Enlisted pages.
You will need to submit a volunteer application. Download or request an application to start the process. You will find an Officer, Warrant Officer, and Enlisted applications on our website, at your local installation special operations recruiting office, or by email.
Download or request an Officer, Warrant Officer, or Enlisted applications from our website, at your local installation special operations recruiting office, or by email.
NOW! Seriously, time is not on your side. If you are interested in joining special operations aviation, then complete an application and start the process. Waiting is only denying yourself what we believe to be an incredible opportunity and career.
You have several choices: see your local special operations recruiter, email, or call us. We are here to help and assist you with the process.
Click the link for more information: https://home.army.mil/campbell/index.php/Go160thSOAR
Instructions for submission are on the cover page of the application. If you need assistance, see your local special operations recruiter, email, or call us.
Generally, 30-45 days; however, it will depend on your MOS.
Your 160th SOAR(Abn) Recruiter will contact you to let you know. When accepted, you will receive an ATRRS Reservation for the Enlisted Combat Skill course. Check your Enterprise email regularly for updates.
It is hard to say, but applications do get denied. The basis of denial can be for numerous reasons, and not all of them are performance-related. We will always provide a reason, and if possible, a solution.
GREEN PLATOON (COMBAT SKILLS)
Enlisted, Officers, and Warrant Officers are assigned and report to the Special Operations Aviation Training Battalion (SOATB) for training. All Officer Green Platoon (OGP) and Enlisted Green Platoon (EGP) qualification courses are conducted at Fort Campbell.
Combat Skills, aka "Green Platoon is the "First Step" to becoming a Night Stalker. All unit Soldiers, Officers, and Warrant Officers must attend Green Platoon before becoming a member of the 160th. This course is critical to your integration and ability to operate within the Special Operations Community.
Enlisted: EGP, 27 training days.
Officer/Warrant Officer: OGP, 15 training days.
Enlisted Combat Skills is your first step to becoming a Night Stalker. It is an assessment/selection process that evaluates your ability to be trained and apply those tasks. Green Platoon is a requirement for all ranks to become a Night Stalker. Click the video link to learn more about EGP.
After your application is reviewed and approved, you will attend EGP under one of the following assignment categories:
Permanent Change of Station (PCS)
TDY En Route (TDY-E)
Temporary Duty (TDY) and Return (TDY-R): following successful completion, you will return to your unit for PCS out-processing.
To attend Green Platoon you must have a passing ACFT score. Green Platoon will have additional physical fitness requirements for graduation. Service in 160th's operational units require excellent physical condition.
If you arrive before your start date, you will be assigned to "Hold Platoon." There you will in-process and focus on increasing your physical fitness level before your EGP course starts. You can get with your recruiter for more information on getting ready for EGP.
While EGP or OGP is your first challenge, it will not be your last or most challenging during your service in the 160th. Seriously, it is a challenging course for obvious reasons, but achievable. Here are a couple of things to remember:
Be mentally and physically ready on day one.
Remain positive. Enjoy the many highs this course has to offer.
Be a sponge and ask questions.
Expect to be challenged by the cadre, tasks, and your peers.
Expect to experience failure, but continue to try and never give up.
Never forget you are part of a team; at some point, they will need you, and you will need them.
Every class starts with a graduation date.
If you do not pass or do not complete the course, you may be recycled, returned to your unit, or be reassigned based on the needs of the Army. Not passing Green Platoon will not impact your career… "No harm, no foul."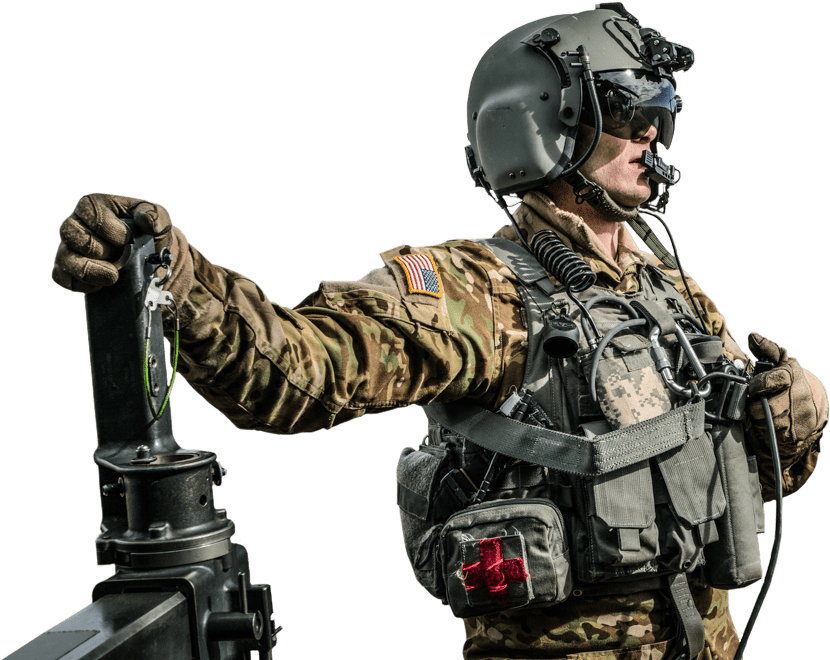 READY? JOIN US.
CONTACT 160TH RECRUITING NOW